New Patient Centre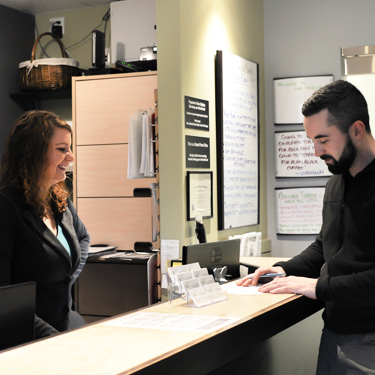 If you're visiting our Halifax chiropractic care centre for the first time, we'd like you to know exactly what to expect. It's our goal to make your visit with us a relaxing and empowering experience.
Our office is often described as warm, nurturing and fun, where patients feel supported. We hope you think so, too.
Your First Visit
Your first appointment will take about one hour. As you enter the practice, you'll be warmly greeted and invited to complete your new patient paperwork. Before meeting with our clinical staff, you'll be taken on a quick tour of the office so that you can familiarize yourself with your surroundings.
You'll then meet with our clinical assistant, who will conduct an in-depth assessment, including
A health history
Neurological testing
A spinal scan, using cutting-edge Myovision technology
A GaitScan™
Dr. Joanne Kostadopoulos will then join us and ask several clarifying questions to make sure that she can help. If the answer is yes, she will then conduct a chiropractic evaluation.
Your Second Visit
Your second appointment will take about 30-40 minutes. During this visit, Dr. Joanne will evaluate your examination and spinal scan findings to help you understand the source of your problem. She'll then discuss customized care options to help you start feeling your best.
You'll conclude your second visit with your first gentle chiropractic adjustment.
Subsequent Visits
Ongoing regular office visits will usually take about 10-15 minutes. Consistent adjustments are an essential part of your care. This initial consistency helps the body to heal more rapidly and efficiently.
As part of our conscientious care, we'll evaluate your progress every 12 visits so that we can reduce your visit frequency as quickly as possible.
Contact Us Today
Most of our patients choose to come in for periodic adjustments to maintain their vitality and a pain-free style of living. However, the choice is always yours. No matter what you decide, our doors are always open to help. We feature on-site spinal scans; contact us today for a convenient appointment!
CONTACT US »

New Patient Centre | (902) 445-0221