September Product of the Month
Adeeva's Sleep-E Naturals – Save 15%!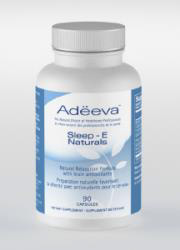 September can be a very busy time trying to get everyone and everything back on a regular schedule. Help your body step back to reality and regulate your sleeping pattern with Adeeva's Sleep-E Naturals.
Sleep-E Naturals helps improve sleep quality and duration, naturally, without risk of dependency. The nutrients found in Sleep-E's can also help slow down aging of the brain!
Our bodies naturally reduce melatonin production as we age; the melatonin in Sleep-E's replaces this to support immune function, as well as breast and prostate health.
CONTACT US »

Product of the Month Genesis Chiropractic & Wellness Centre | (902) 445-0221